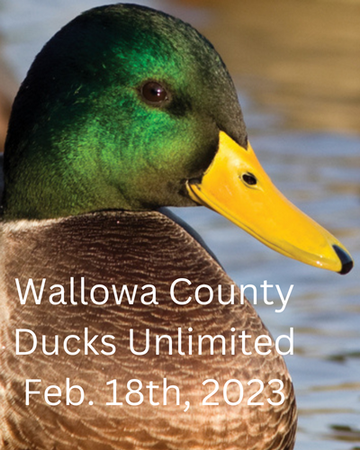 Wallowa County Ducks Unlimited Banquet
Family friendly Annual Fundraising Dinner Banquet.
$25 - $350
Sat, Feb 18 at 5:00 PM (PST)
Cloverleaf Hall, Enterprise, Oregon
Attend the banquet and get a 1 year membership.
Two banquet admissions and two memberships. Bring someone along and double the fun!
Includes delicious dinner, Bronze Sponsor Membership, and entry into the Sponsor Only drawing!
Reserved Table for 8 Guests - Great Deal!
$350.00
Reserve a table for your family and friends. Great deal!!
Includes delicious dinner for 2 guests, One Sponsor Membership & one adult membership, and entry into the Sponsor Only drawing!
Youth age 11 - 17 (10 and under are no charge)
$25.00
Each Greenwing will receive a prize from the Greenwing Raffle, plus there will activities for them. Children 10 and under are free but please let us know they are coming so we can plan accordingly!
Can't attend? You can still make a donation to help conserve wetlands. Donors at this level are recognized with a 1 year Bronze Sponsor membership.
Cloverleaf Hall
TBD600 NW 1st St
Enterprise, Oregon 97828
Wallowa County Ducks Unlimited
February 18th, 2023
Cloverleaf Hall
Online registration now open!!

Don't wait to get your tickets
Location
Cloverleaf Hall
TBD600 NW 1st St
Enterprise, Oregon 97828